"I knew we shouldn't have let that kid join Bravo..." — Brad Michaels

This article predates the Great Reset, and is thus considered a Legacy article. It is not relevant to the current canon.
Requisition of Prosperity
Production information

Class

Manufacturer

Technical specifications

Length

28.960km

Width

11.447km

Height

3.563km

Engine unit(s)

Slipspace Drive

Yes

Shielding

Yes

Hull

Nanolaminate

Armament

Cargo capacity

Enough to house all the civilians on New Jerusalem and a number of Forerunner artefacts simultaneously

Usage

Role(s)

Attack vessel (Up until capture)

Commissioned

2486

Earliest sighting

Present for battles/events

Affiliation

Known owner(s)

DAB-101

Known commander(s)

Unnamed Fleet Master
DAB-101

[Source]   [Talk]
"Is that a..."
"Yup."

—

DAB

, half smugly, in response.
The Requisition of Prosperity, often simply referred to as the Requisition, was a Covenant CSO-class supercarrier in service from 2493 until its apparent destruction in 2551, during the Skirmish for the Requisition. However, its remains were scavenged and repaired to some degree by a Remnant faction during the post-war era.
Commissioning and Early Human-Covenant War
Edit
The Requisition was commissioned along with a couple of other vessels of the type, in 2486, UNSC military calendar. It was the first of the three to begin construction, and as such it was the first completed, entering active service as of 2493.
Unlike most ships of the line, the Requisition was one of the few CSO-class supercarriers that was chosen for offensive actions against humanity during the Human-Covenant War. The only other vessel known to be chosen for such a purpose was the Long Night of Solace. The two vessels were so ruthless, efficient and devastating when performing their allocated jobs that they were never documented by the UNSC, and the existence of CSO-class supercarriers was unbeknownst to them.
Battle and Capture
Edit
Main Article: Capture of the Requisition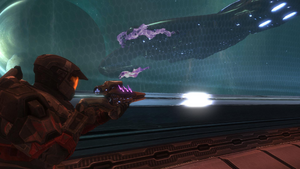 First Battle of New Jerusalem
Edit
Main Article: First Battle of New Jerusalem
Skirmish for the RequisitionEdit
Main Article: Skirmish for the Requisition